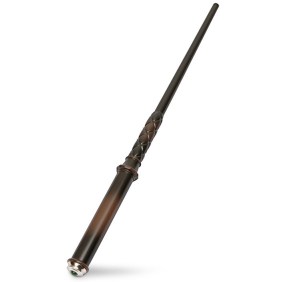 Change the channel like a wizard.
The first remote control was created in the 50s and since then many electronic devices implemented this technology to make our lives easier and make us increasingly lazy about to give up changing channels on the television because the remote control is out of reach.
Don't get me wrong, I enjoy a good remote control, but that's the very truth, it's easy spend a whole day surfing at front of TV but this post isn't about the good and bad things about television, it's about this very cool gadget that can make you control electronic devices like a wizard.
The Magic Wand Remote Control is a simple and cheap piece of plastic in the shape of a magic wand which will allow you to control a large sort of electronic devices that has this technology on it, that's right, with it you can control the TV as well as the stereo or the air conditioner.
All that with 13 programmable gestures that are answered by a vibration, and that's where the fun is, take a look at the image above, besides being able to control multiple devices with a single wand, the gestures performed for the wand work is what makes this a fun gadget.
You can find the Magic Wand Remote Control at Amazon.com, may not be something needed in your life since most of the devices that you can control with the wand already have a remote control, but the story here isn't about practicality, it's about how much fun you can have with it.
---