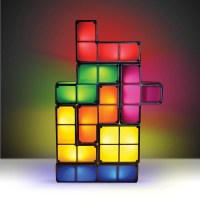 Play Tetris for real with the Tetris Lamp!
How would implement one of the most famous games of the gaming history in real life? Well, now you can experience it with this incredible Tetris Lamp! This is very interesting and after all, a bit of Tetris always goes well on a daily basis.
It comes in seven pieces which can be combined as you would like, and that's when the magic happens and what makes the Tetris Lamp an geeky gadget, because it lights up when the pieces are put together, awesome!
And because of that we can say that you can play Tetris for real. Will make you keep "gaming" the pieces in many different combinations for a whole day, cool, isn't!? Another geeky gadget that works like magic, as his sister, the Tetris Mug.
Officially named Tetris Light, as it is an official product, this stylish lamp can be a great addition to a home decoration, a desktop table or even as a collectible piece as its originality makes it a real representation of the classic game. And for proof you only need to check the images to see how well the Tetris Lamp fits on any shelf or desks.
From ThinkGeek.com

---