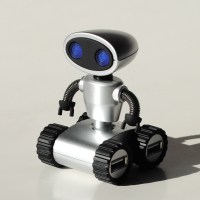 Check out this cool Robot USB Hub!
Take a look at this pretty cool Robot USB Hub, it's stylish, it's futuristic and a high-quality product, it has everything what a geek likes. You see a lot of USB hubs all over the internet, of many types and sizes, but here at Gizmos and Gadgets, we make a very careful selection to reach the quality products that you find here, and this particularly one fits in this factor.
I will explain why the Robot USB Hub isn't a simple one, you can adjust his arms and his rubberized wheels, his eyes light up when connected to your computer, which is awesome, and in addition you can put him at any place for a scientific touch to the environment. Differently of a simple USB hub, this one serves very well as a decoration piece, a perfect gift for a geek friend or a trinket for a science addict.
Therefore, you have to agree with me how cool it is the Robot USB Hub. You can check out another futuristic gadget by reading the post we have made about the Virtual Mouse. If you liked, you can find it on Amazon.com and don't forget to share it with that mad scientist friend that you may have.
From Amazon.com

---