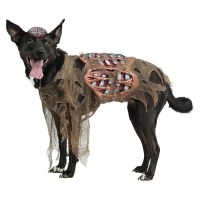 Don't let that pretty face fool you, it's a zombie dog!
You played a lot of Resident Evil, has watched several zombie movies and ever dreamt in having your own zombie dog, well here's your chance with this very cool Zombie Dog Costume! It's proper for Halloween, a prank, or just to have some fun at your house, also, will keep your best friend warm.
Of course, after wearing it don't forget to change your dog's ration for the brain flavor and don't be surprised if he starts "mad dogging" at you. The Zombie Dog Costume comes in three parts, a gauze shirt, a 3D EVA guts belt and a brain cap with elastic, it is available in two sizes, the small fits 20-40 pounds and the large 40-60 pounds of dog. Take a look at the images to realize how funny your dog will be wearing one of these costumes.
This pet costume is an awesome zombie gadget that certainly will provide for you and your best friend a good time together, and maybe some scares. And speaking of scares, take a look at the Zombie Garden Gnome, which will be a perfect match for this one.
From Amazon.com

---