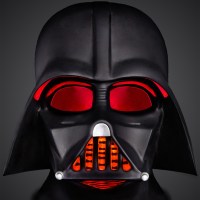 Feel the dark side of the Force with the Darth Vader Lamp!
Who would think that a lamp could be such a cool stuff, in this case not only Star Wars fans, but even the Sith Lord himself would be amazed in seeing this one, take a look at the Darth Vader Lamp and feel the dark side of the Force!
There is not much to say about it, as you only need to put your eyes on it to realize how cool it is, his helmet shape is great, of course, but the most impressive thing about it is the LED light that emits when turned on that glows in an astonishing effect in the dark, which is what gives the Darth Vader Lamp his awesomeness, just take a look at the images to understand what I'm talking about.
It will fit nicely in your son's room or even in yours, a decoration piece in the living room, actually everywhere, just be cautious because the LED light causes a dazzling effect that may arise in your mind the possibility that the Sith could be staring at you.
All kidding aside, the Darth Vader Lamp is far away to be considered only a lamp, is much more likely a collectible for the Star Wars fans and geeks in general. This is another great gizmo which we have the honor in add to our gizmos and gadgets ranks, and for you that don't know, we have related Star Wars posts in our website, check out the Darth Vader Full Mask and the Star Wars Lightsaber, a cool preview of what you can find here.
From ThinkGeek.com

---