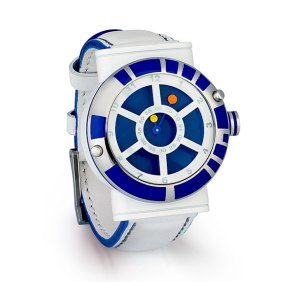 "Beep-boop!" – R2-D2
If you search for Star Wars products on the internet you will be amazed at the amount of things you will find about R2-D2, no wonder, the little droid is the favorite of many fans, and here at Gizmos and Gadgets we have posts about some of these products, take a look.
Now, the most famous droid from Star Wars is back and in the shape of a watch, and not just any watch as you can see in the image, but as a beautiful piece, a collector's piece I would say, not only by its awesome look of R2-D2 but also for its price.
The leather strap, the stainless steel construction, and the wealth of details makes this R2-D2 watch a worth acquisition. Not only for Star Wars fans, but also to any person with class who knows how to appreciate a beautiful watch like this one.
From ThinkGeek.com

---