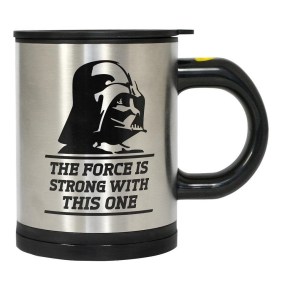 The coffee is well stirred with this one.
Another awesome coffee mug for the coffee lovers, but this isn't an ordinary one, as you already noticed it's the mug of the Evil Lord from Star Wars, and for this reason it stands out from most.
In addition to the famous quote and the image of Darth Vader printed, this mug has a few more interesting features, like the cover that comes with it which is very useful to keep the coffee hot, also, the mug is stainless steel on the outside.
Besides, the most interesting thing about the mug is what the name says, the self stirring stuff, which will make you stir your coffee or cappuccino, you pick, like you were using the Force.
From Amazon.com

---