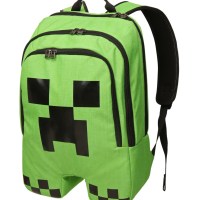 The Minecraft Creeper Backpack is a cool backpack!
That's a cool backpack, not only because the Minecraft Creeper Backpack is a related product of the greatest Indie Game out there, but for his design and awesomeness. You only need to be careful when you hang out wearing one of these as he can blow you out, but that's not a problem for a fan of the classic green monster of Minecraft.
All kidding apart the Minecraft Creeper Backpack is made of polyester is water resistant and have 9 storage slots, after all this you can see it is a high-quality product, not a lame stuff that some random guy created only for sell. Another ThinkGeek exclusive which definitely put you in a very cool way to carry your geeky stuff with style.
You may have noticed that has a lot of Minecraft related products around and here at Gizmos and Gadgets, the right spot for geeky gadgets, we have posts about a few of them, therefore, make sure to check out the post we have made about the Minecraft Wall Torch, which is such a cool gizmo as this one. Don't forget to leave a reply, we appreciate!
From ThinkGeek.com

---