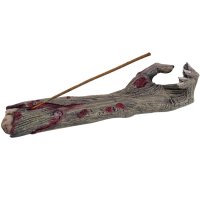 Meditate like a zombie! If that makes any sense…
You're a cool guy that likes to meditate and make your prayers, enjoying a nice Enya or mantra sound, plus feeling a sweet herbal incense. But also you're a zombie culture fan and love The Walking Dead, Left 4 Dead, Resident Evil, the kills, blow zombies heads with shotguns and all what makes this marvelous culture so addictive.
No worries buddy, here's a wonderful piece that will give you the opportunity to put these two loves together, the awesome Zombie Incense Holder, in shape of a zombie arm, very original by the way, will grant you a good time of peace and silence, plus won't let behind your true being, the one who loves to stab zombies in the face. As the poet said: "To achieve the true happiness, you must be what you really are".
Well, this is so cute and have a lot of truth, so, don't lose that chance and pick your Zombie Incense Holder right away. Also, if you liked this zombie gadget check out The Three Wise Zombies, and have a good meditation.
From Amazon.com

---